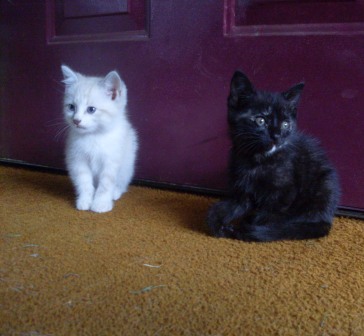 People have a bad habit of dumping critters on the road where we live. About two years ago, on a drizzly
fall day, I was outside and heard meowing up the road. Dad and I decided to go check it out, and we found a little white kitten hiding in the woods across the road. He could almost be coaxed out, but then he would turn and run back to his hiding spot. After about ten minutes, we heard more meows from further down the road; there was another kitten hiding under a clump of roots. We took her home to get her warmed up, then took her back out to see if we could lure her brother out that way. He had taken refuge in a groundhog-hole, but eventually he poked his head out long enough for Dad to get him.
We brought them home, dried them off, and gave them some food. The female's front leg was somehow injured, but otherwise they both seemed fine. They were very young, as you can probably tell from the picture up there. We kept them for several months, and then found a good home for them. :)
Chubs, the male, grew up to be a handsome fella; his fur was mostly white, but with light gray tabby stripes; he never outgrew his gorgeous blue eyes (and showed no signs of deafness, thank goodness). He got his name because he liked to eat and sleep and not much else, so he developed a bit of a potbelly.
His sister, Claudia (which means 'limping girl'), was black with haphazard calico markings. Her leg healed up just fine, and pretty soon she was kicking her brother's butt when they wrestled.
This is a pic of them 'all growed up' and snoozing on the porch together.